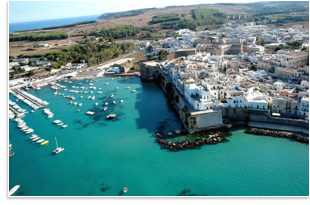 Otranto is the heart of Mediterranean. Located in the easternmost point of Italy, it is the bridge between the East and the West.
Thanks to its geographical position, the city attracted many peoples and then it became the point of connection and integration of different cultures and arts.
In fact Otranto is full of important monuments that reflect the transition of different cultures: the Cathedral with its splendid and mysterious mosaic floors, the Castle Aragon's with its towers and moats, the Bastions that indicate the maze of alleyways and street where you could breathe the charm of Orient.
Bed & Breakfast Gelsimori, thank to its position (about 300 metres away from Otrantos' centre and few minutes from the sea), represents the ideal place to spend relaxing holidays in Salento.